Generators
EATON AUTOMATIC STANDBY GENERATORS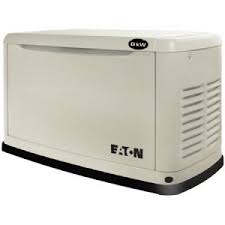 A standby generator is wired directly into your Howell homes electrical circuits, it can be powered to run of natural gas or propane. The operating controls (automatic transfer switch) are connected right into the grid so it knows when the power goes out it starts automatically & powers your home, you chose the number of circuits' you want powered. When the power from the utility comes back on it shuts off automatically. Manual switching is also available. Depending on your needs, you might power your well,(2) furnace, refrigerator, freezer, any medical equipment, and a lighting circuit or two.
There are several control options beyond the basic package of home generators:
EGN 8 Produces 8 KW power , it will typically power up to 10 circuits
EGN 11 Produces 10 KW power, it will typically power up to 12
circuits
EGN 17 Produces 16 KW power, it will typically power up to 16
circuits
EGN 20 Produces 20 KW power, it will typically power up to all used
circuits* *( not at the same time)
Eaton's standby generators make it easy, affordable and worry-free, to supply reliable backup power for residential and light commercial applications. Whether you are home or away, they quietly protect your home and family, with an immediate, automatic, and reliable response to utility power failure, so power is never lost.